Greetings friends,
I hope this finds you well. It's been a beautiful spring here in Flat Rock and it's already warm enough that it feels like summer. But as I write this, the terrible war in Ukraine rages on. In an effort to do something to help in some small way, John Ariatti and I are producing a Benefit Concert for Ukraine on June 25 here in Hendersonville, NC. Here is the flyer for the concert and below that I've included our press release. If you can help out by attending the concert or making a donation we'd greatly appreciate it.
I've got some other performances coming up soon that you can find on my Shows page. As always, thank you for your support of me and my music and I'll look forward to seeing you somewhere along the road.
All my best,
Tom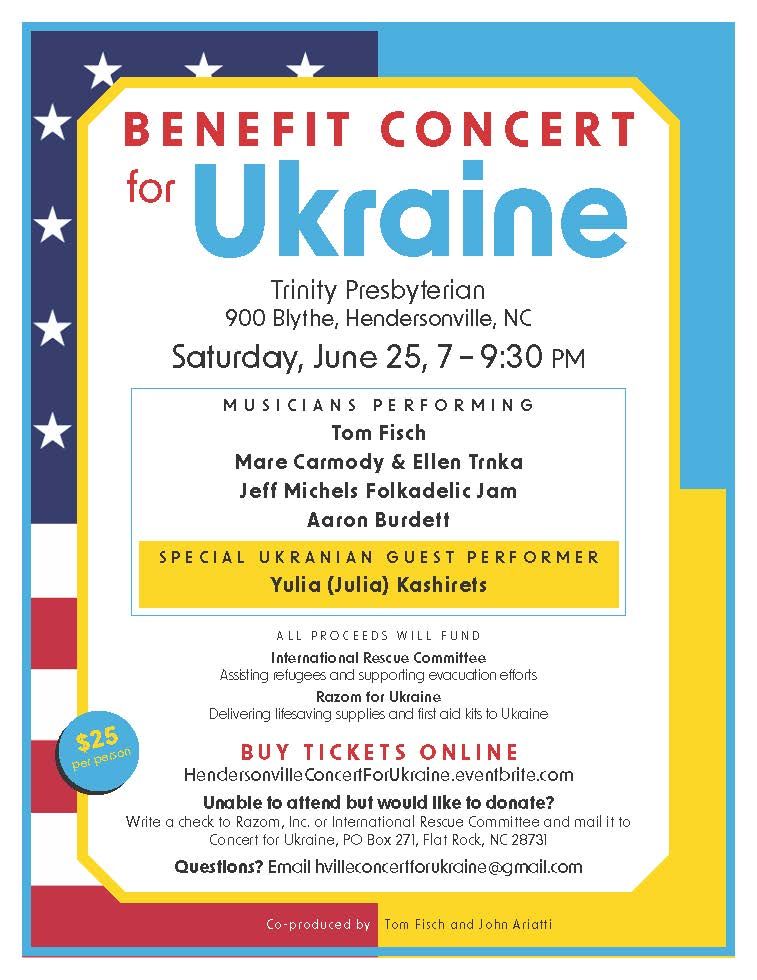 Stand With Ukraine as members of the Hendersonville music community join together to raise funds in a benefit Concert for Ukraine on June 25 at Trinity Presbyterian Church. The concert runs from 7:00 PM - 9:30 PM and tickets are $25.
The concert will feature guest speakers along with performances by well-known Western North Carolina artists Aaron Burdett, Mare Carmody & Ellen Trnka, Tom Fisch, Jeff Michels Folkadelic Jam and special Ukranian guest performer Yulia (Julia) Kashirets.
Produced by John Ariatti and Tom Fisch, all proceeds from the concert will go to The International Rescue Committee (www.rescue.org) and Razom (razomforukraine.org).
The International Rescue Committee's team has quickly deployed to neighboring Poland, where they are working with partners to assist arriving refugees. They are also working with partners inside Ukraine, supporting the evacuation of women and children and providing emergency aid to people who had to flee their homes.
Razom (which means "together" in Ukrainian) is working with volunteers and partners in the US, Poland and Ukraine to address the emergency medical needs of people in Ukraine. Their focus is on getting tactical medical kits (first aid) to the people who need them. To effectively distribute these supplies quickly, they are also providing certain non-medical supplies that enable the distribution of the aid through accurate communication and navigation.
Tickets can be purchased at hendersonvilleconcertforukraine.eventbrite.com. For those who can't attend and would like to donate, you can mail a check made out to Razom, Inc. or International Rescue Committee, to Concert For Ukraine  PO Box 271  Flat Rock, NC 28731.
Questions? Email hvilleconcertforukarine@gmail.com.
To donate to the tip jar after my From My Home to Yours live stream concerts, click the Donate button below. Thanks!
Greetings!
Welcome
to the official website 
of North Carolina 
singer/songwriter Tom Fisch.


Here's what some folks have said about Tom's music:

"..great acoustic music…a cross between Tony Rice, James Taylor and Guy Clark.." 

"..a style deeply rooted in the influences of artists such as Doc Watson, John Prine, Pete Seeger and John Denver."
 
"..You make that thing sing and sound like three guitars. Your guitars must be so happy they get to do that."




While you're here be sure to sign up for Tom's mailing list. We'll keep you updated on the latest concert news, new music, etc. Rest assured we never share your information with anyone. On the Music and Store pages you'll find Tom's music available for purchase in download format or CDs.
Thanks for visiting!